Over the weekend I participated in Global Game Jam at the Edinburgh jam site. The goal was to make a game in 48 hours, starting at 5pm on the Friday with a deadline of 5pm on Sunday. The secret theme this year was a quote from Anais Nin, "We don't see things as they are, we see them as we are". After the theme was revealed we had some time to band together with everyone else at the event and come up with some pretty interesting and wacky ideas. Some people decided to make platformers where everything in the world was not as it seemed, others worked on an Oculus Rift horror game and several awesome ideas were thought up and discarded quite early on.
One of the ideas I pitched was a game where you play in a standard FPS view against other players and the goal is to eliminate the other players. The main feature though was that at the start of the game the views of all the cameras are switched so that you would then be looking at another players view but you would still be in control of your own body. Through this 2nd person view point you then had to kill the person who had your eyes to retrieve them. Although this idea sounded quite interesting at the time it proved to be very complicated to play initially for many of the play testers. The gameplay itself when it worked was very good, mainly when two players who were trying to eliminate each other were looking at themselves and trying to take out their own view port. Sadly more often than not players would end up wedged in walls and completely stuck.
In the image below, Player 1 would be looking at the top left quadrant which is the camera view of another player. Their objective is to then work out which of the other bodies they are controlling and finally eliminate the player whose eyes they are looking out of.
On the final night however we decided to add some alternative experimental game modes as we managed to get the initial game completed quite early. The first of these was a crowd hunting game, you play as a robot, mingling hiding in a crowd of other robots and your job is to find the other human player in the game who is also a robot and is also attempting to hunt you! This idea came about from one of the original ideas we had for the game which was that of crowds of NPC robots making it more difficult to spot yourself. After implementing them however we realised that it was actually more fun trying to spot others at all when people were trying to hide and blend in with the robots who were in the crowd.
Overall many lessons were learned over the course of the jam. The main one was that humans cannot survive (and functional optimally) for 48 hours on purely chocolate and water. The other was that, it doesn't matter if your idea changes from what it was initially and new ideas that you come up with along the way shouldn't necessarily be restricted.
Anyways, although what my team and I made was not the most polished looking game it was a pretty interesting concept that we managed to make up in a relatively short period of time. Check out the video below to see a game in action.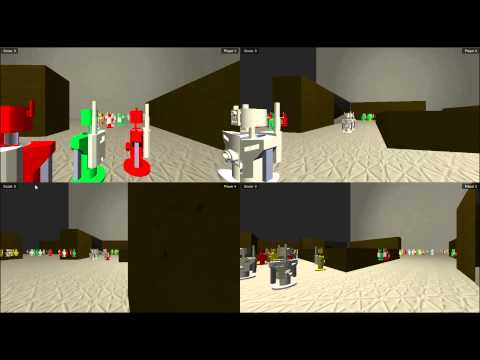 Credits:
Our game jam page can be found here : Face/Off : The Game